about me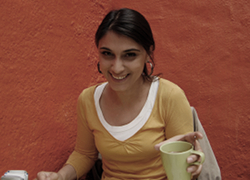 I am an associate professor (førsteamenuensis) at the Department of Information Science and Media Studies at the University of Bergen in the Logic, Information and Interaction Group.
I am interested in all things AI. Topics of publications: judgment aggregation, machine ethics, social influence, digital crowds, group reasoning, collective decision-making.
My first name is pronounced Maria, feel free to ignore the j. Thanks to an ever changing phonetical translation from the Cyrillic alphabet, my last name, originally spelled Славковиќ, can be written as: Slavkovik, Slavkovic and Slavkovikj. The first is my prefered spelling, the last is the currently legal spelling. The important thing is that all these people, and the papers they author in computer science, are me. . . at least for now.